The Most Valuable Thing We Carry Is Our Commitment.
Our classrooms are 900 feet long and 5,000 miles at sea.
We don't carry a weapon. We carry 120,000 tons of them.
We are trained on the latest navigation equipment. And the oldest.
Everything we learn in this classroom will be on the test.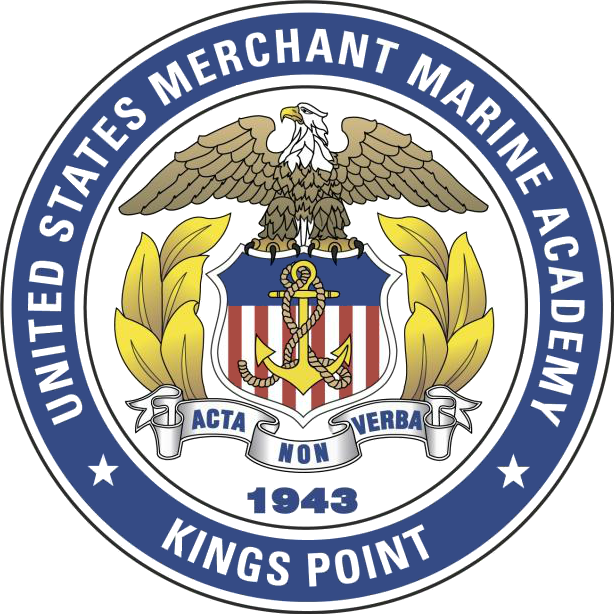 We are the U.S. Merchant Marine Academy
The United States Merchant Marine Academy, one of the five federal service academies, educates and graduates leaders who are committed to serving American national security and critical economic interests. As licensed Merchant Marine Officers and commissioned officers in the Armed Forces, graduates of the academy are essential for securing the country's commerce in peacetime and delivering our warfighters, weapons, and military supplies during conflict. Due to their elite training and real-world experience, graduates are ready to go on day one in service of American military strength and economic power.
The Facts
For 80 years, the U.S. Merchant Marine Academy has prepared leaders of exemplary character, skill and commitment to serve America's marine transportation and defense needs in peace and war.
1943
Founding year of the U.S. Merchant Marine Academy
360
Days of training at sea are required to graduate from the Academy
5
Years of service on a U.S. Flag vessel or on active duty military
8
Years of service as an officer in any reserve unit of the armed forces following graduation
80%
USMMA graduates that make up the U.S. Navy Strategic Sealift Officers Program
Recent Developments
USMMA Alumni Association and Foundation President & CEO Jim Tobin filmed this short video in which he shared his thoughts on the Academy's role in protecting our nation since its founding eighty years ago this week. According to Capt. Tobin, an even more important mission awaits the USMMA tomorrow, as the nation simply cannot win future wars without a strong Merchant Marine – or the service-obligated mariners produced by the USMMA.